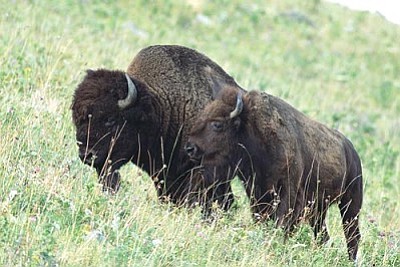 Bison, like these in Montana, are causing environmental damage in the North Rim of the Grand Canyon National Park, where the animals are not native. (Photo by Ryan Hagerty/U.S. Fish and Wildlife Service)
Stories this photo appears in:
Federal officials are trying to figure out how to control a herd of about 350 bison that is roaming the North Rim of the Grand Canyon and damaging vegetation and water sources there.The herd, which had been managed before through hunts, has been out of reach since the animals wandered into Grand Canyon National Park several years ago, where they cannot be hunted.