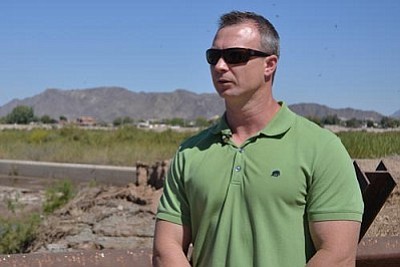 Aaron Marshall, water resources specialist at the Bureau of Reclamation's Yuma office, said the experimental flow down the Colorado River's channel in Mexico is intended to mimic spring floods that once benefited the delta. (Cronkite News Service Photo by Kirsten Kraklio)
Stories this photo appears in:

For more than 20 years, water from the Colorado River has stopped at Morelos Dam, which diverted its flow into Mexican canals for agriculture and municipal use. But in March, water began rushing through the gates to help regenerate the river's delta habitats.