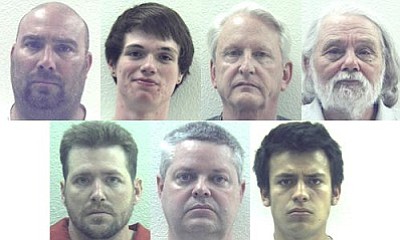 Yavapai County men facing charges of conspiracy to commit child prostitution are (from left) top row - Conrad Gerard Bauman, William Michael Brown, Daniel Newton Head, Francis F. Kraps; bottom row - Jason Michael Pennock, Clifton Alan Reichle and Alejandro Navarro Walton.
Stories this photo appears in:
Several law enforcement agencies executed Special Operation Child Prostitution in Yavapai County in an effort to net people soliciting underage girls for sex. As a result nine people were arrested, including a teenage boy.