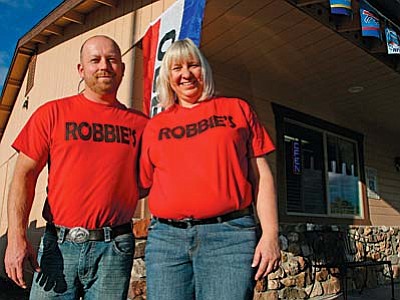 On Dec. 11, Robbie Satran and his sister-in-law Carol Satran, from left, reopened Robbie's Restaurant, nine months after a fire nearly destroyed the Rimrock business. VVN photo by Bill Helm
Stories this photo appears in:
Judging just by the pizza sales, the Dec. 11 soft 'reopening' of Robbie's Restaurant must have been a little hectic.By definition, a soft open - or in this case a soft reopen - implies little fanfare, little promotion, just an opportunity for staff to test the operations, procedures and facilities of the business. But the folks at the Rimrock restaurant did not expect to have a record-breaking day. All they knew was that they could hardly wait to serve their community the best food they could at the best prices possible.