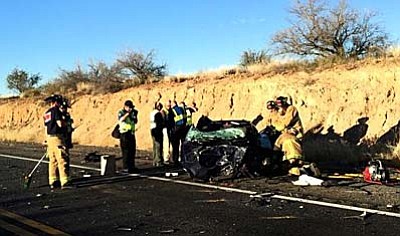 Photo courtesy of Terry Keller, Camp Verde Fire Dept.
Stories this photo appears in:

One person was killed today (Monday) in an accident at about 4 p.m. on SR 260 between Cherry Creek Road and Hayfield Draw at MP214.5. Camp Verde Marshal's Public Information Officer Dave Marshall says the accident was a near head-on collision between a box type commercial delivery truck and a passenger car.