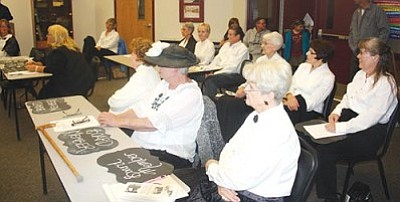 The Beaver Creek Preservation and Historical Society presented its proposal to save the historic rock schoolhouse at the Beaver Creek School District Governing Board meeting Feb. 10. VVN/Raquel Hendrickson
Stories this photo appears in:

Historical society steps in, asks for help
The old rock schoolhouse in the middle of the Beaver Creek School District campus looks practically unchanged since it was built in 1932. In 2012, however, an incident that was described by engineers as "minor relative settlement" caused several cracks in the thick walls.The school board was faced with a dilemma that seemed to pit student safety against historical value.