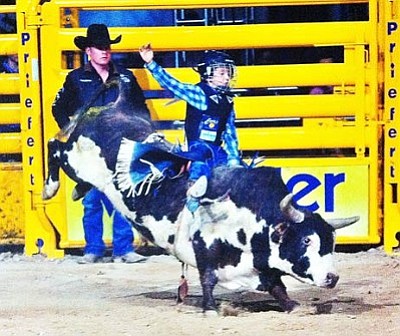 Wyatt Parker, 10, of Camp Verde competes in the Chris Shivers Invitational at the Las Vegas Convention Center during the National Finals Rodeo (NFR) Fan Fest in December 2013. Courtesy photo.
Stories this photo appears in:

'All I want to do is ride,' Camp Verde 10 year old says
With short strides, the young man walks in his blue jeans, the pair with the faded knees. And his blue shirt, he says, that matches his chaps.Measuring 4 feet 5 inches in height and weighing in at 63 pounds, he is "pretty small" for his age, his father says.