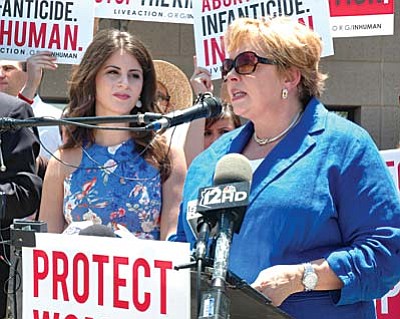 Cathi Herrod, president of the Center for Arizona Policy, has put her organization at the forefront of social conservative issues. This is from a demonstration last year in front of an abortion clinic in favor of legislation to allow unannounced inspections, an issue before lawmakers again this year. (Capitol Media Services file photo by Howard Fischer)
Stories this photo appears in:

PHOENIX -- For years Cathi Herrod and her Center for Arizona Policy have flexed their political muscles and pushed through legislation that represented what she calls "fundamental principles,' often those espoused in the Bible.She has been able to do this even though her evangelical Christian organization raises no money for political candidates. Nor does it make endorsements.