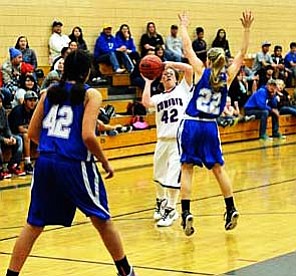 Senior Kimberli Watkins attempts a shot during the Cowboys game against the Chino Valley Cougars. Watkins scored her first points as a varsity player during Camp Verde's final game of the Yvonne Johnson Memorial. VVN/Travis Guy
Stories this photo appears in:

Mark Showers has been a head coach at Camp Verde High School for 17 years and during the 2013 Yvonne Johnson Memorial, it was not what his team did that made the tournament special for him and everyone else there, but what a selfless individual did for a member of his team.