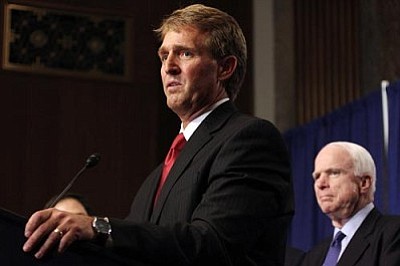 Sen. Jeff Flake, R-Ariz., has agreed to let hearings proceed on five of the six people nominated to vacant federal judgeships in Arizona. The state's senior senator, John McCain, right, had agreed last fall to allow the hearings. (Cronkite News Service photo by Connor Radnovich)
Stories this photo appears in:

Sen. Jeff Flake, R-Ariz., has lifted a block on five of six judicial nominees to the federal court in Arizona, where the American Bar Association has said vacancies are "dramatically worse" than in other states.