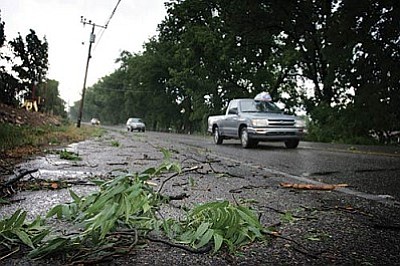 Dodging branches and leaves littered across Pecan Lane, a pizza delivery truck drives toward downtown Camp Verde Monday afternoon. Camp Verde had .82 inches of rain Monday, most of it coming in a one-hour window. VVN/Bill Helm
Stories this photo appears in:

The National Weather Service in the Flagstaff area reported that the a thunderstorm that hovered over the lower Verde Valley had high and sometimes damaging winds Monday afternoon.Meteorologists report that strong outflow winds measured 54 mph at 2:30 in the afternoon. The area was also targeted for numerous lighting strikes during the same period.