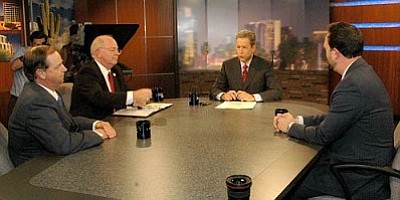 Gary Kiene, Andy Tobin and Adam Kwasman, candidates for the state's first congressional district, debate Monday night at KAET-TV with host Ted Simons in the center. (Capitol Media Services photo by Howard Fischer)
Stories this photo appears in:

The three Republican candidates for Congress from District 1 each insisted Monday night he is more conservative than the other -- and the only one who can oust Democrat Ann Kirkpatrick."Nobody's running to the right of me," insisted state House Speaker Andy Tobin of Paulden during the often-contentious half-hour televised debate.