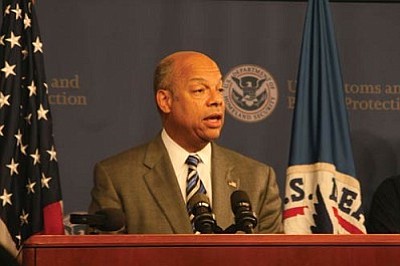 Homeland Security Secretary Jeh Johnson speaks about federal plans to deal with the influx of unaccompanied immigrant children crossing the Southwest border. Johnson stressed that those children will ultimately be returned to their home countries. (Cronkite News Service photo by Aubree Abril)
Stories this photo appears in:
Leaders of several federal departments detailed their agencies' responses Thursday to the surge of unaccompanied immigrant children who have been caught crossing the Southwest border - and stressed that all are subject to being sent home.