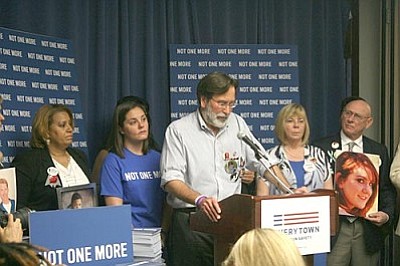 Richard Martinez, whose son Christopher Michaels-Martinez was killed last month in a shooting spree at the University of California Santa Barbara, speaks at a news conference at the National Press Club in Washington, D.C. (Cronkite News Service photo by Miranda Rivers)
Stories this photo appears in:

More than three years after her 9-year-old daughter was shot and killed, Roxanna Green's heart breaks all over again when she sees another shooting on the news."When we laid her to rest, my heart broke," Green said of her daughter, Christina-Taylor, one of six people killed in the Tucson shooting that wounded then-Rep. Gabrielle Giffords in 2011. "My heart is still broken."