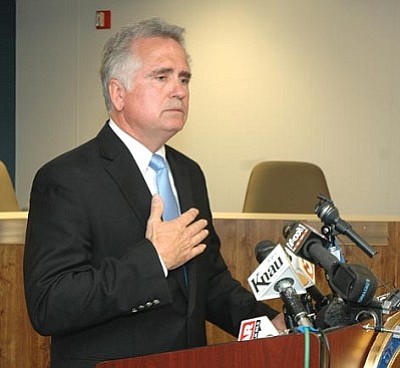 State School Superintendent John Huppenthal answers one of a series of questions to him at of a press conference Wednesday where he repudiated comments made in anonymous blogs about ``lazy pigs' who get welfare and a diatribe against people who speak Spanish. But Huppenthal said he will not quit and will pursue his campaign for reelection. (Capitol Media Services photo by Howard Fischer)
Stories this photo appears in:
The state's top school official apologized and repudiated anonymous blog posts he has made for at least the last four years equating welfare recipients with "lazy pigs" and declaring there should be no Spanish-language radio, TV, billboards and newspapers.But John Huppenthal said this afternoon he has no intention of resigning the post to which he was first elected in 2010. And Huppenthal said he will not drop his bid for reelection this year.