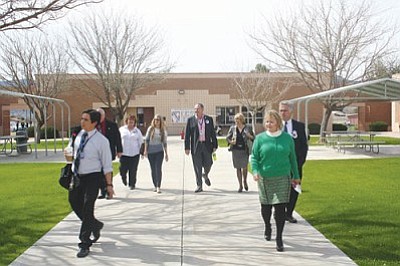 VVN/Raquel Hendrickson
State Superintendent John Huppenthal and other Arizona Department of Education officials walk through the Camp Verde Unified School District campus with Superintendent Amber Lee (in green) and Technology Director Aaron Moya (left) on March 5.

Stories this photo appears in:

Not long ago, Camp Verde Unified School District was at the bottom of the barrel in educational technology. Now it is a standard-setter.That is why the state superintendent, associate superintendent and state education chief information officer asked repeatedly if Aaron Moya could be cloned.