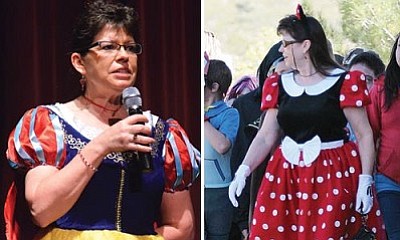 At left, in April, Pottorff participated in the third-grade music concert at CVES with another memorable outfit. (VVN/Jon Pelletier). Pottorff's Minnie Mouse costume has long been a staple of Halloween at CVES. (VVN/Bill Helm)
Stories this photo appears in:
She's been known as the Jackie O of Camp Verde Unified School District. Very organized and highly creative, Debi Pottorff has also been known for her style - like the sun visor-and-clipboard getup for keeping an eye on students on the playground and the annual Minnie Mouse costume for Halloween. Now, as the elementary enters its last month of classes for the school year, Pottorff is coming to the end of her tenure as principal and retiring from the district.