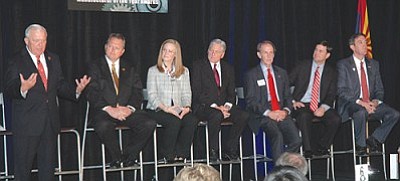 State senator and Republican gubernatorial hopeful Al Melvin (left) tells a conference of the Arizona Manufacturing Council Wednesday he wants to phase out the state's individual and corporate income taxes, saying the lost revenues could be made up with increased economic activity. Secretary of State Ken Bennett, at far right, has a similar plan. (Capitol Media Services photo by Howard Fischer)
Stories this photo appears in:

A plan by some Republican gubernatorial hopefuls to eliminate the state income tax is getting a chilly reception from the woman they hope to replace.