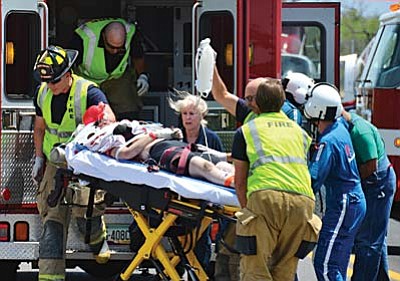 An off-duty trauma nurse was among the first on the scene and administered CPR until paramedics arrived from Verde Valley and Montezuma-Rimrock Fire Districts. Harline was loaded into a Guardian Air ambulance and flown to Flagstaff Medical Center where she later succumbed to injuries. VVN/Jon Pelletier
Stories this photo appears in:

FLAGSTAFF -- Ethelyn Harline of Gilbert has died at Flagstaff Medical Center of injuries suffered in the collision with a van in Cornville Saturday. The 48-year-old woman was among hundreds of bicyclists pedaling to raise money for Multiple Sclerosis research in Ride the Vortex. Harline was riding with relatives on a tandem bike, 52-year-old David Waechter, and his 16-year-old daughter.Nelson Shaum, 90, of Cottonwood, was driving a tan 2011 Chrysler van.