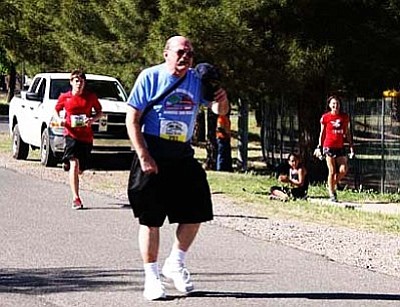 Pete Hellmold closes in on the finish line of the Brian Mickelsen 2-mile run/walk. In 2011 Hellmold was paralyzed and had to learn to walk again for hte second time. Photo Courtesy of Dom Giazzon
Stories this photo appears in:
After getting paralyzed and having to learn to walk again not once but twice in his lifetime (the second time in 2011), Cottonwood resident Pete Hellmold was able to start, and finish, the 2-mile walk/run portion of the 2014 Brian Mickelsen race, thanks to his self-admitted hard-headedness and the help and support of people he has met in Cottonwood and Sedona.