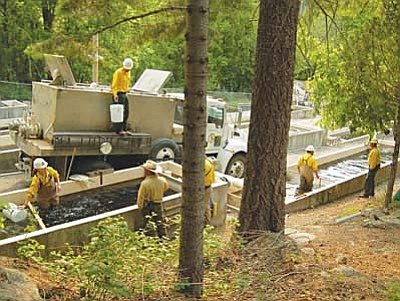 Jim Paxon, AG&FD/Courtesy photoSterling Springs Hatchery Manager Bryce Sisson dumps fingerling trout into a bucket Saturday so they can be transported to safety from the Slide wildfire.
Stories this photo appears in:

SEDONA - With the Slide fire bearing down on Sterling Springs Fish Hatchery Saturday, the Arizona Game and Fish Department rescued 600,000 trout fingerlings from the hatchery and transported them to safe sites.The Sterling Springs Fish Hatchery typically produces 1.6 million eggs annually. It is responsible for 68 percent of the trout production for stocking in state waters. It's located along Highway 89A in Oak Creek Canyon north of Sedona.