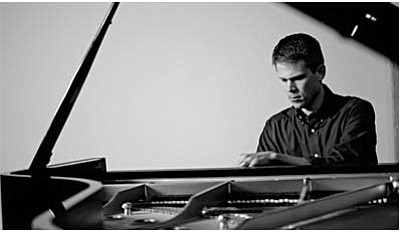 Free concert at Yavapai CollegeNov. 19On Wednesday, Yavapai College's new adjunct faculty member Brian Lockard will perform a free concert entitled "From Bach to Rock." The concert is being given to announce that Mr. Lockard will be teaching both Piano and Music Appreciation at the Verde Valley campus in spring of 2015. The performance will take place at 7 p.m. in room 137 of building M, on a Steinway concert-grand currently on loan from the Verde Valley Concert Association. With a lively program touching on classical, popular, film and folk music, the concert will include guest performers Dr. Stephen Dunn - trumpet, Edward Altherr - French horn and Staci Dickens – soprano.
Stories this photo appears in:

Nov. 13 & 20Cornville author and artist Rosemary Corneto will read from her award-winning children's book "Grandma's Magic Box" at the Cottonwood Public Library at 3:45 p.m. on consecutive Thursdays. The library is located at 100 S. Sixth St. in Cottonwood.Check for more listings!