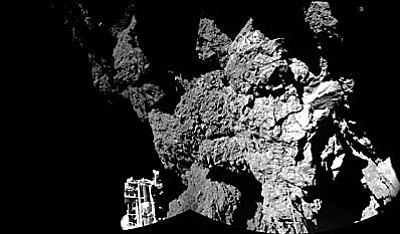 Photo by ESA/Rosetta/Philae/CIVARosetta's lander Philae is safely on the surface of Comet 67P/Churyumov-Gerasimenko, as these first two CIVA images confirm. One of the lander's three feet can be seen in the foreground. The image is a two-image mosaic.
Stories this photo appears in:
When some people want to discover where we as a human species came from, they dig in the earth - or, more appropriately, the Earth. To answer the same question, others look outward into the galaxy and far beyond.