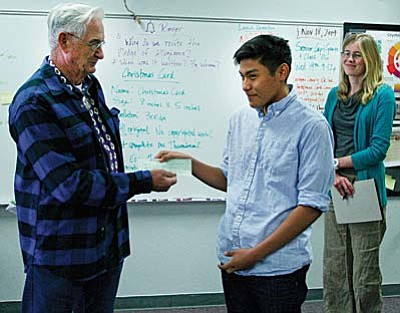 Mary McCarthy, far right, the Town of Camp Verde's sustainable economic development intern, watches as 17-year-old Vance Tewawina receives a $250 check from Ron Brattain of the Sesquicentennial Planning Committee for winning the Town's Sesquicentennial Logo Contest. McCarthy developed the logo contest and also manages the committee's meetings. For her industrious work, Town Council extended McCarthy's internship contract through the end of Fiscal Year 2014. VVN/Bill Helm
Stories this photo appears in:

McCarthy's contribution: the 'sense of place'
The Town's Sesquicentennial Logo Contest? She developed it.