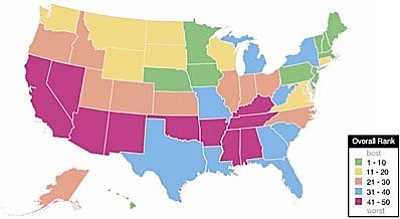 Arizona fared poorly on a new report on child homelessness, finishing 45th among states when ranked on several factors. It came even as the number of homeless kids in the state fell last year. (Map courtesy the National Center on Family Homelessness)
Stories this photo appears in:

WASHINGTON - Even though the number of homeless children in the state fell last year, Arizona still had one of the highest rates in the nation, with 62,616 such kids in 2013, a new report says.