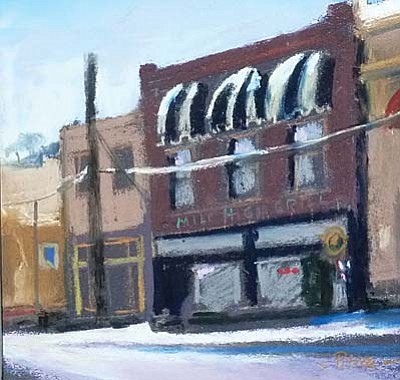 Sedona Plein Air Festival comes to JeromeOct. 21The 10th annual Sedona Plein Air Festival will once again return to Jerome with some of the top painters in the country arriving to experience the visual delights of Jerome. The day will be Tuesday, rain or shine with a tent in Middle Park. The day begins early, with painters arriving for first light on Cleopatra Hill and will end with a show and sale of the day's paintings at Cellar 433. For more information, contact Donna at (928) 301.3004. Susan Pitcairn created this painting during the 2013 Festival. The subject is the Mile High Grill and Inn, one of the proud participants in Jerome.
Stories this photo appears in:
Theodore Roosevelt on Verde Valley CampusOct. 17Theodore Roosevelt was the face of America for three decades: Powerful, opinionated, intensely loyal and devoted to the ideal of a just, honorable, and muscular America. Actor Derek Evans energetically brings President Roosevelt back to life in performances from the White House Visitor Center to grade school classrooms, museums and theaters across the United States. Check for more listings!