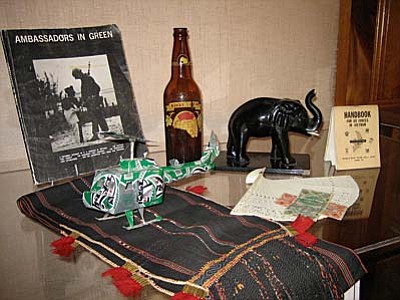 Opening Reception for New Exhibit at Sedona Heritage MuseumNov. 8The Sedona Heritage Museum will host a special exhibit beginning Saturday themed as "Living with War: Culture & Conflict", a look at some special contrasting artifacts from the Vietnam War. Items on exhibit are loaned by servicemen and women who served during the Vietnam War and include artifacts they collected individually or were given by the U.S. military.The exhibit is opening to the public just in advance of the Museum's annual Veteran's Day tribute event. The Sedona Heritage Museum is located at 735 Jordan Road in Jordan Historical Park in Uptown Sedona and is open daily from 11 a.m. to 3 p.m. For more information, call (928) 282-7038. 
Stories this photo appears in:

Grow Great Soil to Grow Great FoodNov. 8Gardens for Humanity's November workshops will motivate participants not to treat soil like dirt. Saturday, their community gardening education series will present two ways to grow your soil - the first to grow the soil you have and the second to create the soil you don't have.Check for more listings!