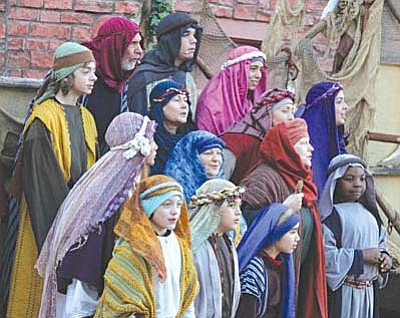 Audition for Sedona Christmas productionOct. 5Potter's Hand Productions has announced open auditions for the 11th annual Christmas production of "Pilgrimage to Bethlehem." This year's production includes an all-new Christmas musical. Actors, singers, drummers, musicians, dancers, families and children will be cast in speaking and singing roles. Auditions are at 1 p.m. on Sunday at Wayside Bible Chapel, 401 N. 89A, Uptown Sedona. All rehearsals are on Sunday afternoons, in uptown Sedona, then move to Tequa Plaza in the VOC in November. With a "Village Fair" atmosphere, "Pilgrimage to Bethlehem 2014" will be a live interactive performance, taking place in the outdoor courtyard at Tequa Marketplace on December 12-14.For more information, please see www.PottersHandProductions.com.
Stories this photo appears in:

Get trained in kayakingOct. 4Verde River Valley Nature Organization (VRVNO) is partnering with the American Canoe Association (ACA) to bring you five of their qualified instructors for an instructional day on the Verde River. This discounted ($50) workshop is the start of formal education on the river. Check for more listings!