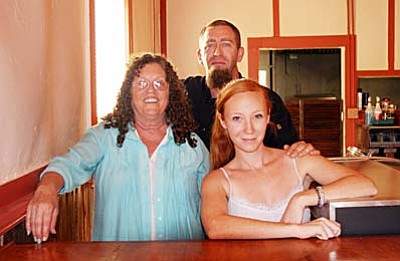 Sensing an opportunity to fill a niche in the community's downtown business corridor, Lynne Willis, her son Beau Medlar and his wife Cassie Pline, from left, are opening the Corner Bistro in the old Montezuma Inn. VVN/Bill Helm
Stories this photo appears in:

CAMP VERDE - Beau Medlar says that Generation X'ers are foodies."The culinary arts now have an artistic feel," the Camp Verde resident says.For close to 20 years, Medlar has been everything from dishwasher to lead chef. Now, he can add business owner to his resume.