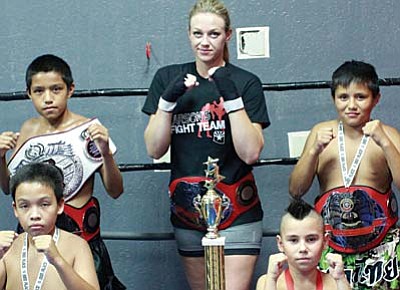 Pictured are fighters from Champs Gym with their belts and medals that they earned at tournaments in Des Moines, Iowa and Orlando, Florida. Back Row: Adam Hines, Lauren Willis, and Avery Hines. Front Row: Kainen Cummings and Ethan Zepeda. VVN photo by Greg Macafee
Stories this photo appears in:

Clifford Larson and his wife Pita Ogle opened up Champs Gym in Camp Verde in 2011, holding fitness classes and training kids in boxing, kickboxing, and Muay Thai.