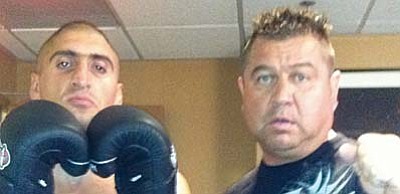 Richard Williams poses with his fighter Nik Salantri during their recent trip to the Glory 23 event in Las Vegas, NV where Salantri went all three rounds for a decision against opponent Patrick Branch. Salantri will be fighting for a IKF Arizona State Title during Williams's event on October 17 at Vinny's in Cottonwood. Photo Courtesy of Richard Williams.
Stories this photo appears in:
Recently, there was an article published in the August 12 issue of the Camp Verde Bugle and the Verde Independent titled "HDH Kickboxing just getting started." In the article it references Richard Williams and the Golden Cobra gym. The article said that Richard Williams was "originally with the Golden Cobra."