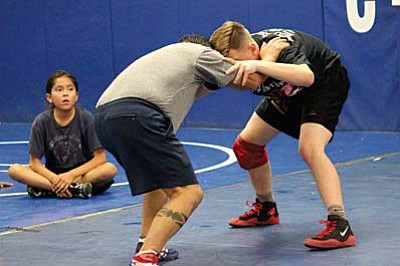 Hayden Uhler, a 2-time State and National champion participates in a drill with coach Richard Estrella during his wrestling clinic last Friday. Uhler was one of many Camp Verde wrestlers who attended Estrella's clinic. VVN photo by Greg Macafee
Stories this photo appears in:

All the parent volunteers who have had a hand in putting together New Breed's off-season wrestling program understand and appreciate the commitment our student athletes make. It would be easier for them to go home after school and play video games rather than spend hours of sweating and laboring through rigorous practice sessions.