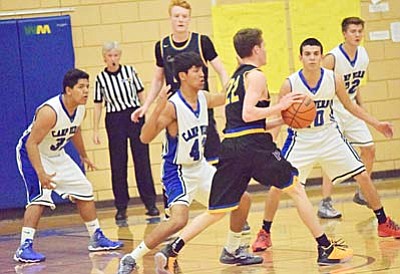 Camp Verde senior Thomas Herrera plays defense on Phoenix Country Day point guard Andrew Ekmark. The Cowboys had trouble all night defending the paint, as the oversized forwards of the Eagles were a force to be reckoned with Tuesday night. The Cowboys will get their rematch against the Eagles Friday afternoon when they compete at the Phoenix Country Day Basketball Desert Classic. (Photo by Greg Macafee)
Stories this photo appears in:
After the Camp Verde Cowboys cruised to an 11-point victory against the Mayer Wildcats in their first game of the year it seemed like everything was going their way. They got their starting point guard and leading scorer from Javier Perez back on the court Tuesday night and Head Coach Dan Wall had a couple extra players returning as well.