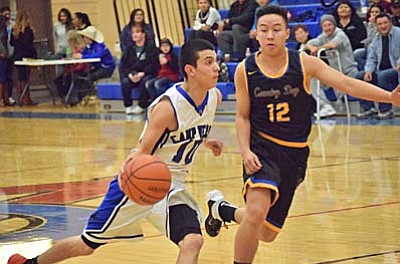 Senior point guard Javier Perez drives to the hoop during Camp Verde's first match up with the Eagles last Tuesday. In his first game back Perez scored nine points before receiving a technical foul just before the half and didn't play the rest of the game. Both the boys and girls will play Glendale Prep on Wednesday. (Photo by Greg Macafee)
Stories this photo appears in:

On Friday and Saturday both Camp Verde basketball teams got their rematch with the Phoenix Country Day Eagles and then some, as they competed in the Phoenix Country Day Desert Classic. Both teams were victorious in two game and lost three.