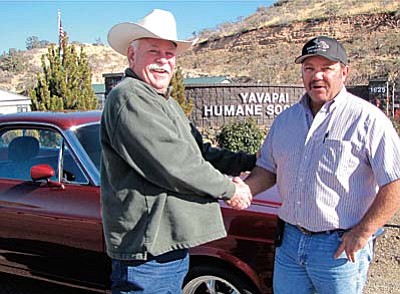 Pat O'Brien, left, shakes hands with Camp Verde resident Terry Ligon on Jan. 9 at the Yavapai Humane Society in Prescott. The $10 raffle ticket Ligon bought at YHS won him O'Brien's 1966 Ford Ranchero. Courtesy photo
Stories this photo appears in:
"You're joking. I never win anything!' Ligon says
PRESCOTT - Imagine winning a classic car for $10.Terry Ligon of Camp Verde doesn't have to imagine anymore.