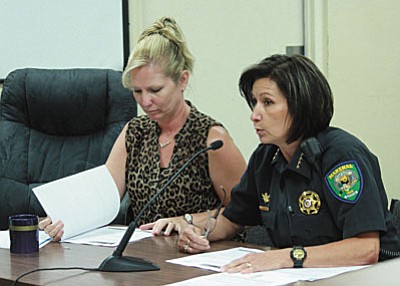 Camp Verde Town Marshal Nancy Gardner, right, and Dispatch Supervisor Mary Newton explain to council their need for their own Spillman CAD system. Gardner explained the benefits that the system will bring to CVMO and the Town of Camp Verde. VVN photo by Greg Macafee
Stories this photo appears in:

CAMP VERDE - The Camp Verde Town Council met for a special work session Wednesday to discuss three agenda items concerning the Camp Verde Marshal's Office, a lease purchase agreement and suggestions for appointment to the Yavapai College Advisory Board.