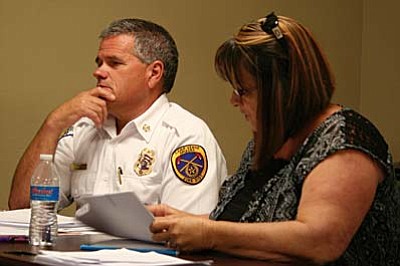 Fire Chief Terry Keller and Finance Manager Robyn Cook speak with the board about the fiscal year 2015-2016 budget. The board approved of the preliminary budget and a public hearing will be held on July 15 to hear comments from the public. VVN photo by Greg Macafee.
Stories this photo appears in:

CAMP VERDE - They discussed, they voted and the Camp Verde Fire District Governing Board approved the Operational Authority Intergovernmental Agreement by a 3-2 vote, board members George Kleindienst, Steve Darby, and David Curtis voted to approve of the IGA while board members Gwen Gunnell and Linda Welsch voted against it.