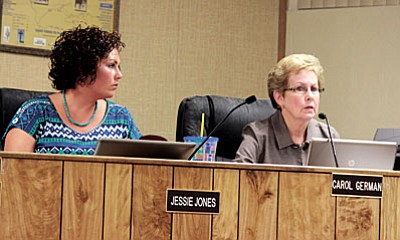 Camp Verde Town Council members Jessie Jones and Carol German, from left, listen to arguments supporting and in opposition of the Town's proposed fiscal year 2015-2016 budget. Council will hear public fedback on the budget on July 15. VVN photo by Greg Macafee
Stories this photo appears in:
CAMP VERDE - In regular session Wednesday, the Camp Verde Town Council voted 5-2 to approve the proposed fiscal year 2015-2016 annual budget.