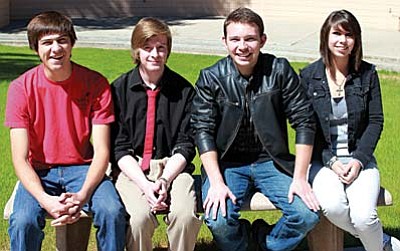 Left to Right: Christopher Alvarado, Dylan Rogers, Ricky King and Kayla Renken. These four Camp Verde High School seniors will be joining the military following graduation: Alvarado to the Marines, Rogers to the Army, King to the Navy and Renken will join the Air Force. VVN photo by Greg Macafee.
Stories this photo appears in:

Students to represent the four military branches
CAMP VERDE - Camp Verde High School will send four students into the military this year representing each branch of the military.