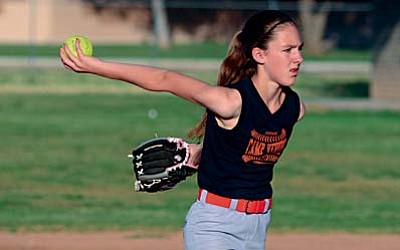 Audrey Norman gets ready to pitch in Tuesday's game vs the Verde Valley Little League Alabama Crimson Tide. Head coach Jason Freeman said his team is growing this season. VVN/DerekEvans
Stories this photo appears in:

Verde Valley Alabama Crimson Tide beat Camp Verde Giants by over 10 runs
CAMP VERDE--Camp Verde Little League season is winding down. On Tuesday, the Giants of Camp Verde Majors softball played the Alabama Crimson Tide of Verde Valley Majors softball. Alabama beat the Giants 22-10. The starting pitcher for the Giants was Audrey Norman. The pitcher for Alabama was McKell Gordon.