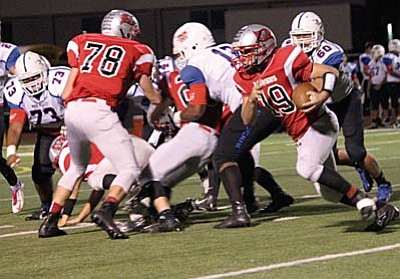 Junior Trey Meyer runs the ball earlier this year against Moon Valley. Meyer had to step in as the full-time quarterback Friday night as starting quarterback Jordan Upham was sitting out after tweaking his back last Friday against Coconino. Meyer scored a touchdown and handled the offense well in Upham's absence. (Photo by Greg Macafee)
Stories this photo appears in:

Five straight wins, two straight shutouts, and the Mingus Marauders are rolling after a 30-0 victory over the McClintock Chargers Friday night.