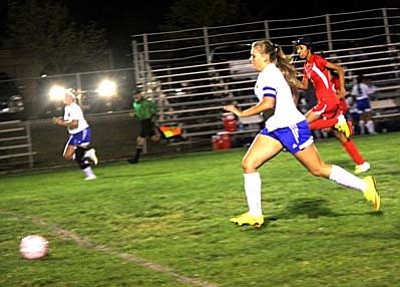 Camp Verde senior Paige Church takes off on a breakaway Wednesday during her final home soccer game as a Cowboy. Church tallied a goal for the Cowboys during their 8-1 victory over the Holbrook Roadrunners. Church was honored at halftime with fellow seniors Lucy Showers and Cheyanne Reece. (Photo by Greg Macafee)
Stories this photo appears in:
It was a night of celebration in Camp Verde, Wednesday evening as the Camp Verde girls soccer team took on the Holbrook Roadrunners in their last regular season game.