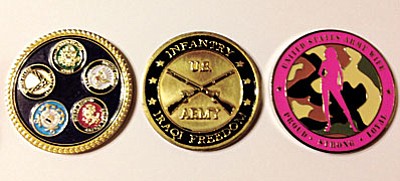 Various Challenge Coins, from left: The new and limited edition All Points Up Phase I; an Infantry Campaign Token (middle) and a Military Wives' Coin (at right) recognizing the enduring commitment of the Service Member's Spouse.
Stories this photo appears in:

IMAGINE THIS: You are several thousand miles from home, as mortars explode in the distance. Enemy fire has you pinned down and watching every crumbled building from your position.