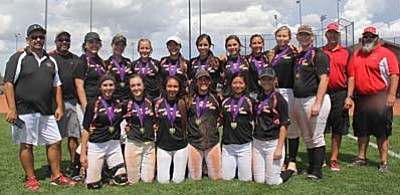 Verde Valley Heat Elite 16-u team took the championship at the ASA kick-off tournament in Prescott outscoring opponents 66-17 and going undefeated. Pictured above is the Heat Elite team. Top Row, Left to Right: Assistant Coach Sevio Serna, Head Coach John Brown, Laria Serna, Harleigh Scott, Bailey Brown, Maliah Zillmer, Maddie Bejarano, Macee Cunningham, Lacey Saravo, Krista Earl, Haley Young, Assistant Coach Chris Earl, Assistant Coach Chip Cunningham. Bottom Row: Morgan Mabery, Kaycee Williams, Sonya Saucedo, Nikki Zalinski, Braylee Parry, and Courtney Stahley.
Stories this photo appears in:

This past weekend the Verde Valley Heat Elite 16-U softball team competed in the ASA Kickoff Invitational. Held in Prescott, the Heat Elite came to play as they outscored opponents 66-17 on their way to a 6-0 record and a championship victory.