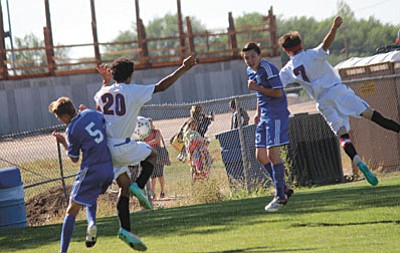 John Castillo jumps for a head ball during a cross from a teammate while Cody Fant settles the ball in the box for an opportunity on goal. Fant and Castillo would trouble the Northland Prep Academy defense all morning but would come up short. Castillo would go down during the 1st half with an apparent knee injury and would not return for the rest of the day when the Cowboys played the Chino Valley Cougars. (Photo by Greg Macafee)
Stories this photo appears in:

CAMP VERDE - The Camp Verde Boys Soccer team traveled to Chino Valley Friday morning to open up their regular season schedule with the Chino Cup.