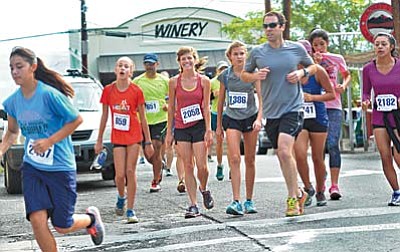 Runners run through the streets of Jerome during the beggining of the Jerome Hill Climb on Sunday. The race brought out 257 competitors over Labor Day Weekend. VVN/Vyto Starinskas
Stories this photo appears in:

The runners took off around 8 a.m. Sunday morning for the Jerome Hill Climb with over 257 runners. The Jerome Hill Climb had another successful year atop the hill. With competitors that travel from all over to run or walk up the steep and challenging 4.5 mile course, some finished in just under 30 minutes and others took their time finishing in just under two hours.