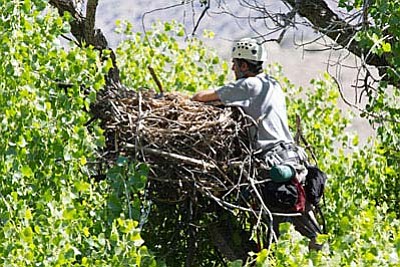 The Bald Eagle Nest Watch team from AZ Game and Fish had planned to band the eaglet on Monday morning. They climbed up to the nest and inspected it thoroughly and found evidence of recent meals, but no eggs, no chick. (Photos courtesy Town of Clarkdale)
Stories this photo appears in:
Clarkdale has some sad news to report this week. The eaglet that hatched in a nest on the Verde River just above Clarkdale in early April did not survive.