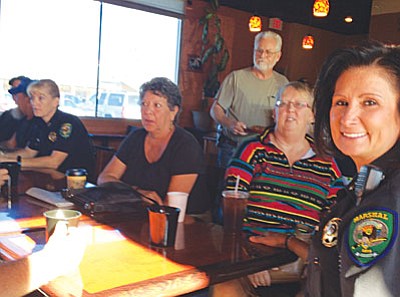 Town of Camp Verde officials in attendance at Coffee with a Cop include Commander Jacquelyn MacConnell (second from left), Council member Brad Gordon (standing) and Marshal Nancy Gardner (right). (Photo by Tom Tracey)
Stories this photo appears in:
Quad thefts, abandoned houses and speeding top list of citizen's complaints
CAMP VERDE - The last Monday of each month, Camp Verde residents have a chance to share a table one-on-one with police officers and town officials in order to voice their concerns and to hear the latest in crime updates. On Aug. 29 at 8 a.m., over 20 attendees gathered inside Thanks a Latte to discuss quad thefts, abandoned houses and neighborhood speeding.