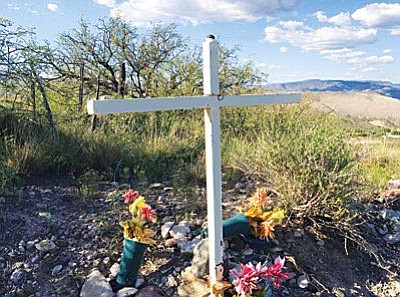 Under ADOT specifications, a marker may be up to 30 inches high and 18 inches wide and the wood or plastic/composite material components used to create it may be up to 2 inches thick and 4 inches wide. It may include a plaque up to 4 inches by 4 inches and up to 1/16 of an inch thick.(VVN/TomTracey)
Stories this photo appears in:
ADOT to regulate materials, placement, size
VERDE VALLEY - They've been a part of Arizona's landscape since roads were first traveled using four legs instead of four wheels - - especially by those of Hispanic and Native American descent. Now, ADOT is requiring pre-approval of the materials, placement and size of roadside memorials prior to placement.