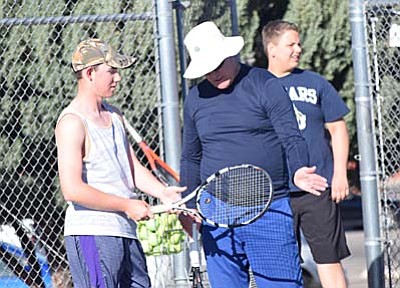 Mingus boys tennis Head Coach Larry Lineberry (right) gives one of his players advice during a practice last week. Lineberry was honored as the USTA Southwest Community Volunteer of the Year on February 19. (Photo by Greg Macafee)
Stories this photo appears in:

Last Friday evening, February 19, Larry Lineberry, the new Head Coach for the boys tennis team at Mingus Union High School, was honored at the annual United States Tennis Association (USTA) Southwest/United States Professional Tennis Association (USPTA) Southwest awards banquet.